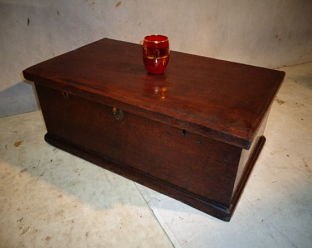 This is an Antique George III Oak Bible Box c1760-1800. It is solid Oak with Blacksmith made hinges and nice patina. It has a simple honest form and has three locks at one point or another so a very precious Bible was in it for some time. The locks are gone but its a great thing from another time. It has had woodworm but is long since doormant.
When this piece was made General Cornwallis had not surrended at Yorktwon (1781), the battle of the Nile hadnt been considered (1798) and the Napoleonic Wars were not yet thought about, we were the greatest Empire on the planet from a little island in the Northern hemipshere. What could this piece tell us about the world and ourselves.
it is
23 inches wide
13 inches deep
9 1/2 inches high
Please ring or email us for sales enquiries and payment options.
SOLD

<div> </div>