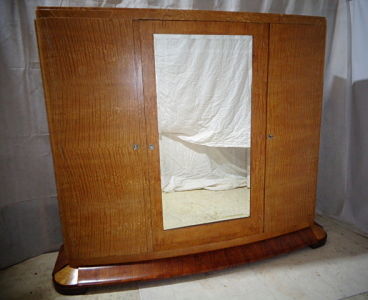 This is a wonderful example of a French Art Deco Compactum wardrobe c1925-39. It is Rosewood and Ash and the quality is outstanding. It signed by the designer Jean Le Favre on the bottom right of the right hand door. All of the interior is adjustbale or removable completely so you can alter where you want the shelves. We have been struggling to find out anything about the designer. The inlay inside is ebony and boxwood with the doors all retaining there orignal keys. It completely flat packs for moving and getting it in. When it is in pieces there are 35 pieces and then the box of parts. A wonderful thing, they dont natirally have hanging rails but it would not be a problem for me to pop them in if you so desire, thats not a problem.
it is
80 inches wide at the top
92 inches wide at the base
28 inches deep at the base
21 inches deep at the top
72 inches high
Please ring or email us for sales enquiries and payment options.
£3250.00

<div> </div>