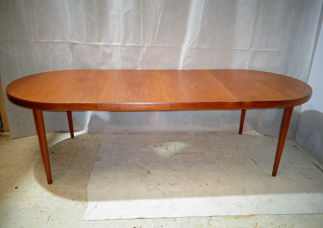 This is a Retro Danish teak C J Rosengaarden dining table. It has two extra leaves which are fitted in the picture above and are removable. It is very practical as the legs unscrew so its easy to get into any home. Love this design.
it is
closed
59 inches wide
28 1/4 inches high
39 1/4 inches deep
with one leaf it is 79 inches wide
with two leaves in it is 99 inches wide
Please ring or email us for sales enquiries and payment options.
£425.00

<div> </div>